Post still under construction, please wait until I "stikethrough" this sentence.

-I was granted sales permission on Aug. 23, 2013 by entirelycliched.
-My Feedbacks can be found here: http://feedback.pkmncollectors.net/feedback/view/victorsaurus5/
-I ship from Puerto Rico, USA. I only ship to the USA at the moment. I use USPS.
-I only accept Paypal, when buying something include on the Paypal note your username and what you bought, send via "goods".
-USD only.
-Once I give the goods to the post office, i'm not responsible of what happends to the item/s.
-Shipping and fees are not included in the prices, ask for quote if curious. Quotes are not commitments.
-Don't send money until I tell you so and until I give you my PP Email address.
-Once committed to a purchase, please pay within 24 hours of receiving a final payment quote/my Email.
-Backing out of a committed purchase may result in a negative or neutral feedback.
-Send me a feedback, if anything if wrong please let me know before putting a feedback, maybe it can be fixed.
-Please do not edit your comment, just reply to your own comment.
-I will not sell to banned members.
-Minimum to buy is $2
-Please follow the PKMNcollectors rules,
-Some photos have a PKMN TCG card for size reference.

Special rules/info for this post:
I want to inform members that right now I only have 2 toploaders, the rest of the cards will be on a sleeve and I will use part of cereal boxes and stuff like that for protection. I will get more toploaders next week or later this week. I have security envelopes that are 3 5/8 in x 6 1/2 in. Also have some bubble mailer.
**I trade/sell stuff in real life so at any moment stuff could be sold, I try to update quickly, but ask just incase.
Cards are mint/near mint unless otherwise specified.




Well, mostly flat sales.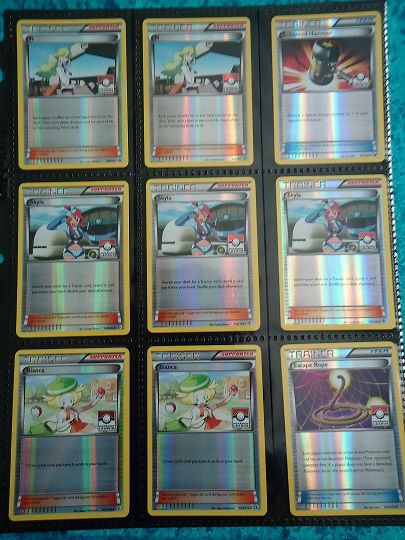 These are all reverse holo.
N (BW100), league stamp. $4 $3 each
Skyla, league stamp. $3 $2 each
Enchanced Hammer, league stamp. $2
Bianca, league stamp. $2 $1.50 each
Escape Rope, league stamp $2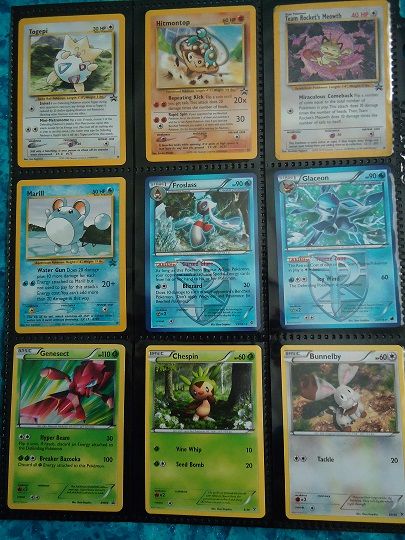 Non are holo.
Togepi, black stat promo #30. $1
Hitmontop, black star promo #37. $1
Team Rocket's Meowth, black star promo #18, (it's in bad condition, the yellow border is dirty with black stuff and even the white area is a little dirty) .25 or free with a purchase.
Marill, black star promo #29, $1
Froslass 23/101. $1
Glaceon 23/116. $1
Genesect not on sale
Chespin, 3/39 $2 $1.50
Bunnelby 30/39 $1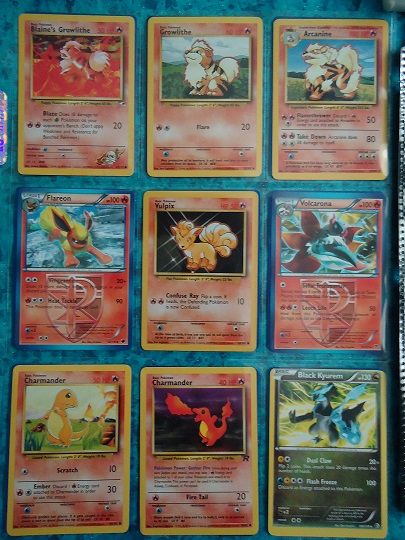 Non are holo.
Flareon $1.50
Arcanine $2 $1
Black Kyurem (miscut) $1
The rest are .50 each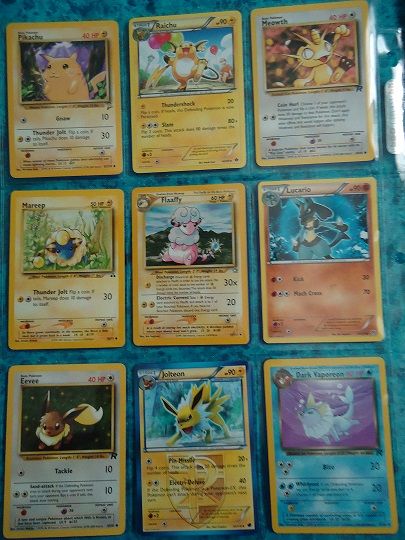 Non are holo.
Eevee: .50
Jolteon $1
Dark Vaporeon $1
Flaaffy $1
The rest are .50 each (Pikachu is base set 2)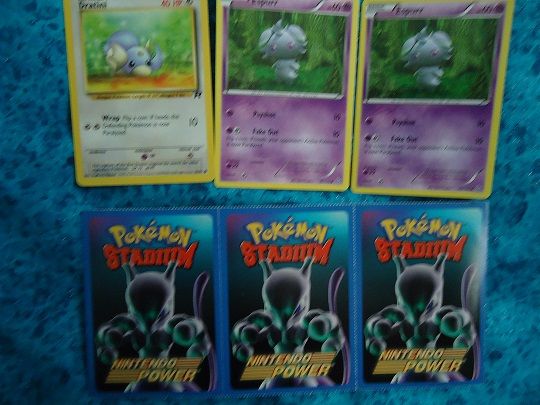 Mewtwo Nintendo Power cards, $2 each
Back of the card.
Dratini .50
Espurr .25 each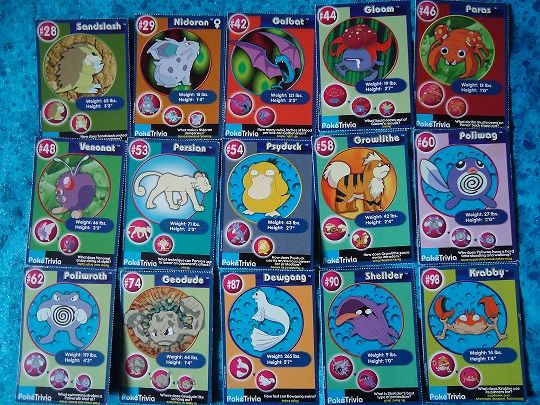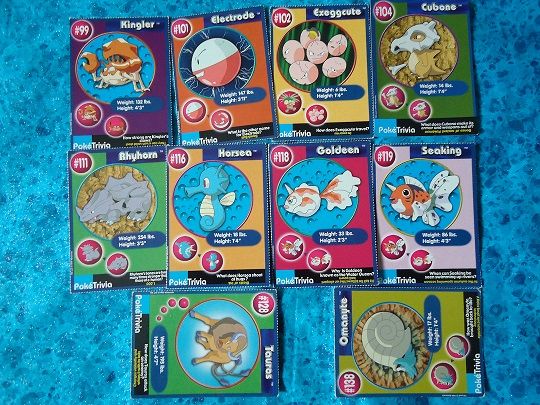 Burger King Trading cards. .25 each (near mint)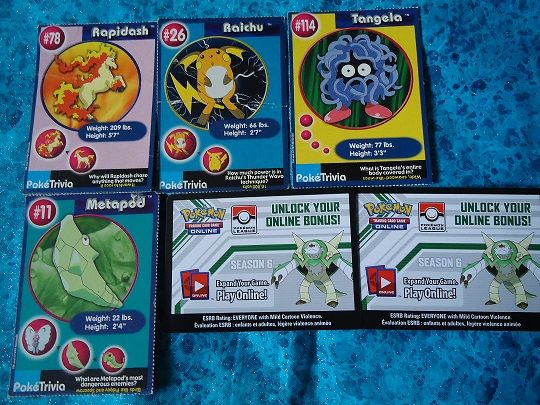 Bad condition BK cards. .10 each
Chesnaught code card. .25 each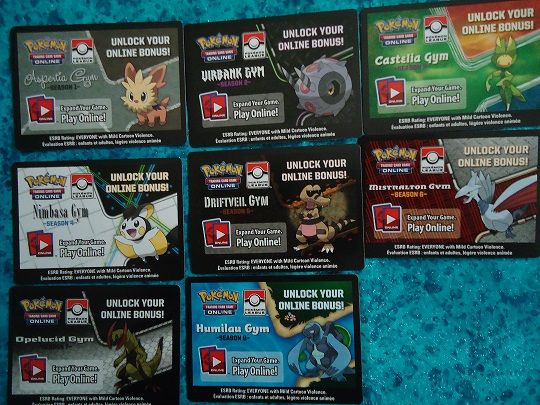 Unused TCGO cards, $2 for the set
I have multiple of some, so I can sell some for .50 each incase some of you collect a certain PKMN.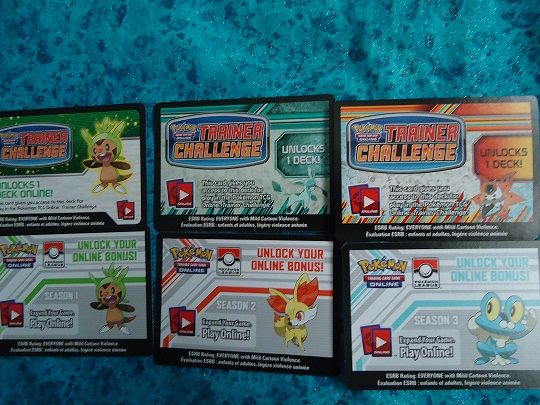 I consider these unused TCGO code cards near mint, might have scatches and bends around the edges.
Decks: Chespin, Volcarona and Glaceon $2.50 each (I redeemed 1 of each already and when I went to redeem these, the system said that I cannot redeem more copies of the same deck, so I'm guessing these are not redeem unless there was a system error)

League set of Kalos starter, $4 $2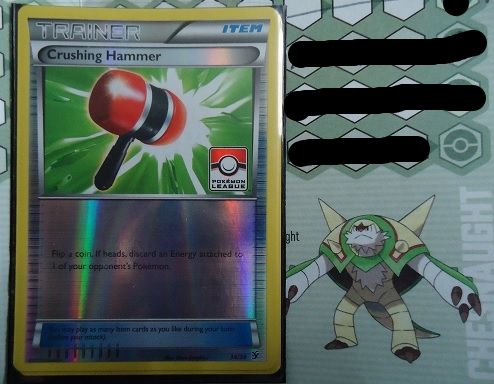 Crushing Hammer, league stamp promo based on the XY starter set #34/39. $2



Used random Spanish flats lot, don't know how to classify them, most are a little bend (like Meganium) because some are "Salta Tazos" so they are supposed to flip. Some are puzzles. Grimer is a Tazo that is you move it you will see Muk. *Nidoqueen included, but not pictured*
$8 $6 This will go in a bubble mailer.
Might break lot if individual gets lots of interest.



Lugia milkcap/Salta Tazo mint in bag (the one not in bag is for viewing reference) $2




Spanish Stickers:
.25 first 2 rows
.50 bottom row
or $3 for the lot.




Spanish Standees. $1 each.



Four PKMN League badges/pins from Johto. The white area of the badge on the left has yellowed, the other might become yellow at anytime. The pin on the top is not for sale, it's just for reference. This will be shipped in a bubble mailer.
$5 for the lot of four.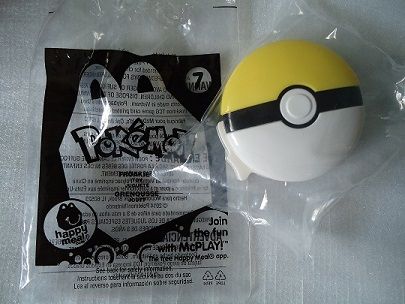 Froakie McDonald's toy mint in bag. $1
I also have another Froakie toy with a Pikachu card mint in bag (sealed) for $4 (ask for info/pic)




Factory sealed VHS (contains 3 episode) $1
You will be getting the sealed one on the left, the one on the right is a used one from my collection used to preview the back of the box. Not sure how much it would cost to shipp, so might remove this, any help would be great.

Non Pokemon sale post: http://victorsaurus5.livejournal.com/3936.html